Lumbo Sensa back orthosis
Sensa Line back orthosis
---
---
Benefits at a glance
Practical in everyday life
You can put the back orthosis on yourself in a few simple steps. The continuously adjustable closures with pocket grips are especially practical here. Furthermore, the anatomical cut of the orthosis makes it slim and inconspicuous under clothing.
Skin-friendly hygiene
The Lumbo Sensa is very skin-friendly. Antibacterial fibres integrated into the knitted fabric effectively reduce the growth of bacteria to inhibit odour formation. The functional fibres absorb moisture and wick it to the surface of the knitted fabric, where it evaporates quickly.
Good fit
The three-dimensional flat-knitted fabric makes it comfortable to wear. It adapts perfectly to the body so that constrictions and unpleasant pressure points are avoided. In addition to the straight form, the Lumbo Sensa is also available in a version developed especially for the female anatomy, the Lumbo Sensa Women.
Indications
Lumbar syndrome, lower back pain
Pseudo-radicular sciatica
Muscular imbalance in the lumbar spine
Degenerative changes of the lumbar spine (e.g. osteochondrosis, spondyloarthrosis, facet joint syndrome, etc.)
Irritation of the sacroiliac joint
Downloads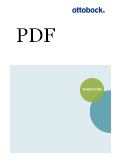 Sensa Line product information
The Sensa Line brochure contains detailed information about the Lumbo Sensa, Genu Sensa, Epi Sensa, Manu Sensa and Malleo Sensa.
FAQ
The orthosis is machine washable at 30°C. The antibacterial effect of the integrated fibres is retained even after repeated laundering.

Yes, the orthosis provides effective protection against latex allergies as it is free of natural latex.

Many users wear the Lumbo Sensa over an extended period and also for prophylaxis. We recommend consulting your doctor, who will advise you in detail.
---